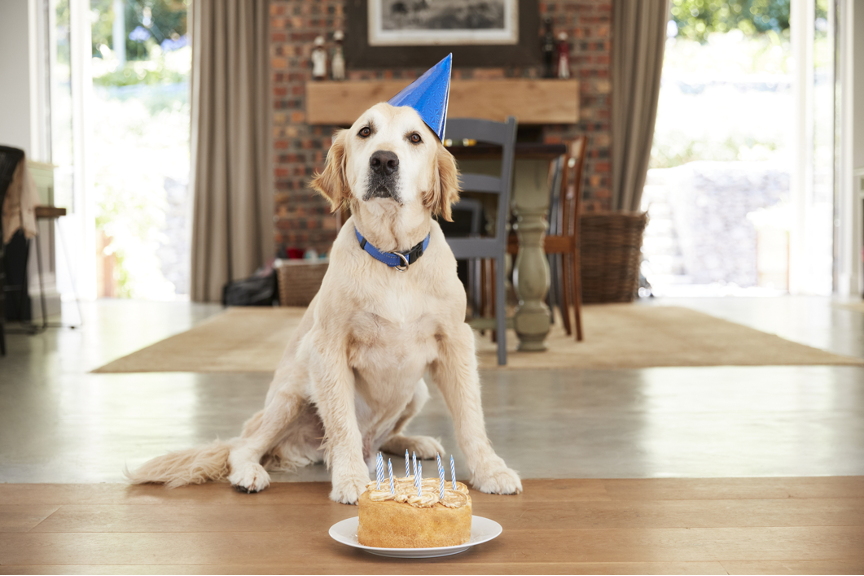 Image: Dreamstime Stock Photos
As pet owners, we share an unbreakable bond with our furry friends. They bring us immense joy, unconditional love, and countless memories. So, when it's time to celebrate our beloved pet's birthday, it's only natural to want to make it extra special. In this blog post, we'll explore some creative and fun ways to celebrate important pet milestones, ensuring your fur baby feels loved and cherished on their special day.
1. Create a Paws-ome Party Atmosphere:
Throwing a birthday party for your pet can be a fantastic way to commemorate their special milestone. Set the tone by decorating the party area with pet-themed decorations, colorful balloons, and streamers. You can incorporate your pet's favorite colors or even go with a theme that suits their personality.
2. Invite Pet-loving Pals:
Let your pet celebrate their birthday alongside their furry buddies. Invite your friends who have pets to join the festivities. This not only gives your pet a chance to socialize but also creates a fun atmosphere where everyone can enjoy themselves.
3. Whip up Some Pet-friendly Delights:
Just like us, pets also love tasty treats. Bake a pet-friendly birthday cake using ingredients that are safe for them, such as peanut butter, carrots, or sweet potatoes. Make sure it's free of any harmful ingredients and keep portion control in mind. You can find plenty of homemade pet treat recipes online for inspiration.
4. Throw a Pet-friendly Adventure:
Take your furry friend on an outdoor adventure that they'll never forget. Plan a long walk in their favorite park or explore a new hiking trail together. Let them bask in the beauty of nature while enjoying the company of their favorite human. Remember to pack some water and treats for them to stay hydrated and rewarded along the way.
5. Pamper Your Pet:
Birthdays are all about being treated like a queen or king, and your pet deserves it too. Arrange for a pet grooming session to make them look and feel their best. Give them a gentle bath, trim their nails, and brush their fur. You can also indulge them with a relaxing massage or even a professional photoshoot to capture their cutest moments.
6. Plan an Interactive Playdate:
If your fur baby loves playing with other pets, organizing a playdate can be an excellent way to celebrate their birthday. Set up an obstacle course in your yard or living room with toys and treats strategically placed for them to find. It'll keep the excitement level high and ensure hours of entertainment for both them and their playmates.
7. Surprise Them with New Toys:
Spoil your pet with some birthday presents they'll adore. Head to your local pet store, and select a range of toys that your pet can have fun with. Whether it's a new squeaky toy, a puzzle game, or an interactive treat dispenser, choose toys that align with their interests and keep them entertained for hours on end.
8. Donate to Animal Charities:
If your pet's birthday is an opportunity for you to give back, consider donating to animal shelters or rescue organizations. Many shelters have programs where you can sponsor a pet's care, which can be a wonderful way to help animals in need while honoring your own fur baby.
Our pets bring boundless joy and unconditional love into our lives. Celebrating their birthday is a fantastic opportunity to show our appreciation and create lasting memories. Whether it's a paws-ome party, an adventurous outing, or simply showering them with love and attention, the possibilities for celebrating your pet's special milestones are endless. Remember, it's not about how grand the celebration is, but the love and happiness you pour into making their day unforgettable. So let's make every pet's birthday a truly special occasion!