Being one of the most common dogs in the world of pets, Bulldogs enjoy a worldwide popularity in not just the countries like America or England or Australia but India too. Their easy to spot appearance and many other qualities as a house or domestic dog have made Bulldogs one of the most preferred and in demand pets. They have a muscular and hefty physique with the most notable features being their wrinkled face and pushed in nose. They are very friendly and easy to train, and were therefore the fifth most popular breed in the US in 2017 according to the American Kennel Club.
The most common characteristic features of a Bulldog includes their wide head and shoulders as well as a pronounced mandibular prognathism. Another distinctive feature is their thick folds of skin over eyes, brows, nose, mouth and even under their neck accompanied by pointy teeth and droopy lips. Their coat is usually short and flat, coming in a small range of colors. Unlike the majority of dogs, Bulldogs have a natural short tail which is sometimes crooked and sometimes straight. Originally hailing from England, they are more comfortable in the cool and temperate climate, however over the decades and also thanks to their sturdy nature and incredible adaptive abilities.
Bulldogs have now learnt how to survive in the tropical climate of India quite well. A fun trivia! Bulldogs got their name from the use of their ancestors in sports in "bull-baiting". But despite being used in such sports, Bulldogs rarely show signs of aggression and are generally very calm, courageous and resolute. They have the tendency to be stubborn at times but are still highly preferred as a domestic pet because of the numerous benefits they come with, being incredible playmates for children being one of them.
Their unique appearance sets them apart from other regular dogs and hence makes people want to adopt Bulldogs even more. But like every other dog in this world, Bulldogs also come with both good qualities and bad qualities. And if you are considering adopting one, you should know of all the necessary information on the matter to make the whole process easier for both you and your dog. So, in today's article we will be discussing and providing you with all kinds of information you need to know before adopting a Bulldog of your own. In the following part of the article we will be including various topics to discuss such as the price of Bulldogs in India, their vaccination and vet charge, pet insurance policies available in India and so on.
| BREED | Bulldog |
| --- | --- |
| ORIGIN | England |
| LIFE SPAN | 3 to 12 years |
| LITTER SIZE | 4 to 10 puppies |
| COAT | Short and flat |
| COLOR | Solid White, Red, Fawn, Yellow, Cream, Brindle |
| TEMPERAMENT | Gentle, friendly, intelligent, loyal etc |
| HEIGHT | 30cm to 61cm for males and 25cm to 54cm for females. |
| WEIGHT | 23kg to 25kg for males and 18kg to 23kg for females. |
| Bulldog Price In India | 10,000 to 60,000 INR |
PRICE OF BULLDOGS IN INDIA
The price of Bulldogs in India ranges from 10,000 INR and can go upto an amount of 60,000 INR.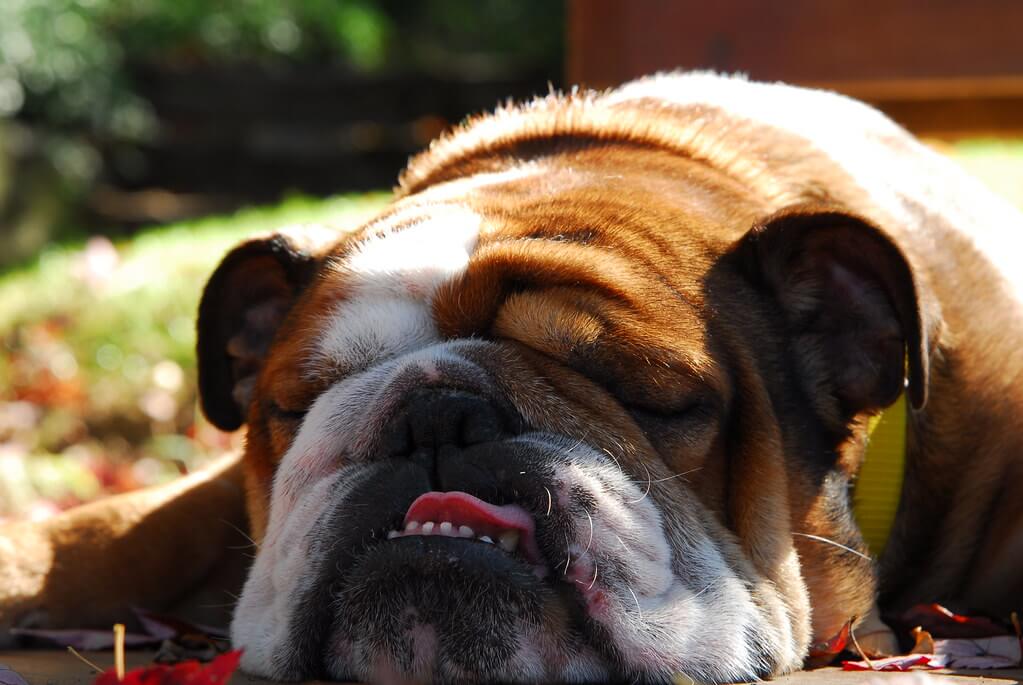 Let's take a look at the following price list of Bulldogs charged by breeders in different cities of India.
PRICE LIST OF BULLDOGS IN DIFFERENT CITIES OF INDIA
| CITY | PRICE OF BREED (₹) |
| --- | --- |
| MUMBAI | 25,000 - 60,000 |
| DELHI | 20,000 - 55,000 |
| LUCKNOW | 20,000 - 50,000 |
| KOLKATA | 35,000 - 65,000 |
| JAIPUR | 30,000 - 58,000 |
| KERALA | 25,000 - 56,500 |
| PUNJAB | 27,000 - 65,000 |
| CHANDIGARH | 30,000 - 66,000 |
| BANGALORE | 27,000 - 65,000 |
| HYDERABAD | 25,000 - 62,000 |
PRICE IN MUMBAI – Bulldogs in Mumbai, which is a metropolitan city, can cost you 25,000 INR to 60,000 INR depending upon the breeder, quality of dog, coat, color and health.
PRICE IN DELHI – The average price of Bulldog in Delhi starts from 20,000 INR to 55,000 INR. If you are planning to adopt from a breeder in Delhi but you live in another state, then expect the price to be higher. As out of state adoptions cost more than in state adoptions.
PRICE IN LUCKNOW – The price of Bulldog in Lucknow is around 20,000 INR to 50,000 INR. Expect the price to be more if the breeder and the previous puppies of the litter you're adopting from has a KCI certification.
PRICE IN KOLKATA – In Kolkata, another metropolitan city, the price of Bulldog starts from 35,000 INR to 65,000 INR. You have the option to choose from a variety of colors but keep it in mind that the price changes with every different color.
PRICE IN JAIPUR – Price range for Bulldog in Jaipur starts from 30,000 INR to 58,000 INR. A little advice, if you're adopting puppies make sure to adopt from reputable breeders. Try to avoid pet mills as the quality of their puppies is somewhat compromised.
PRICE IN KERALA – It is quite often seen that the price for puppy adoption seems to be more in Kerala than in other states and cities. Therefore expecting a price slip of 25,000 INR to 56,500 INR might not be too much.
PRICE IN PUNJAB – Punjab, because of having a hot and arid climate, charges more for breeds that are better suitable for temperate to colder regions. This is because of their maintenance expenses. So the price of Bulldog in Punjab might range from 27,000 INR to 65,000 INR,
PRICE IN CHANDIGARH – The price range for Bulldog in Chandigarh starts from 30,000 INR and can go upto 66,000 INR. Although there are chances of a hike or drop in price rates depending on the demand and supple rate.
PRICE IN BANGALORE – Price of Bulldog can start from 27,000 INR to 65,000 INR in Bangalore. The weather of Bangalore might not be suitable enough for your Bully which can mean an additional number of expenses coming at you. Be ready!
PRICE IN HYDERABAD – Price of Bulldog in Hyderabad range from 25,000 INR to 62,000 INR. Make sure to negotiate if necessary and also let the breeder be aware of your budget beforehand. This will make the adoption process a lot more smoother.
FRENCH BULLDOG PRICE IN INDIA
The price of French Bulldogs in India is around 30,000 INR to 65,000 INR, depending on the breeder. French bulldogs are much smaller in size and more playful compared to the regular breed of Bulldogs.
BULLDOG PUPPY PRICE IN INDIA
Bulldog puppy price in India starts from 10,000 INR and can reach upto 60,000 INR. The price of Bulldog puppies are found to fluctuate when compared with breeders from all over India.
BRITISH BULLDOG PRICE IN INDIA
Now let's come to another variation of Bulldog. The price of a British Bulldog in India is around 40,000 INR to 70,000 INR.
AMERICAN BULLDOG PRICE IN INDIA
The price of American Bulldogs in India is around 30,000 INR to 60,000 INR. American Bulldogs are usually much more laid back and calmer. However they are still as affectionate and loyal and friendly.
DOG FOOD EXPENSES FOR BULLDOGS IN INDIA
The most prominent feature of a Bulldog lies in their short coat filled with folds and their pushed in nose. Their small stature and unique face is an eye catching element that makes me extraordinary on many levels.As they are not native to India, the hot and humid weather of India might cause them to suffer from some health issues that may cause them to shed. Therefore, good dog food will charge you around 10,000 INR to 15,500 INR.
VET EXPENSES
Regular vet check-ups are an unskippable and important step to a healthy dog. Vet visits come with vaccines and deworming. Vaccines for Bulldogs cost around 4,000 INR. Deworming medicines should also never be skipped and be taken as prescribed by your vet. Deworming medicines don't usually exceed the 500 INR price limit.
On an average, monthly expenses for your You Bulldog's vet visits will fall under 20,000 INR.
NEUTERING AND SPAYING EXPENSES
Breeding is a tedious task and is not for everyone and although the advantages it has are mention-worthy, it is in the best interest for Bulldogs to get neutered or spayed. In India, neutering charges range from 10,000 INR to 15,000 INR. Keep in mind that price differences may be noticed when you compare among other states.
DISEASES THAT BULLDOGS ARE PRONE TO IN INDIA
Some of these serious diseases are listed down below :
Hip Dysplasia
Elbow Dysplasia
Cherry Eye
Fold Dermatitis
GROOMING AND MAINTENANCE EXPENSES
Expect the skin and hair care bills of your pooch to be around 1,000 INR to 2,500 INR on average per month.Grooming charges at any dog parlor ranges from 4,500 INR to 5,000 INR.
ACCESSORY EXPENSES
You will need a bed and kennel, bowls for food and water, high quality leash and chain and so on.
The monthly expenses for that will be around 2,000 INR to 4,000 INR.
TRAINING EXPENSES
Trainers can be appointed by the owner themselves or by the breeder as well if needed. In India, trainers charge 10,000 INR to 20,000 INR approximately, each month.
CONCLUSION
Bulldogs are extremely friendly and loyal dogs that are one of the first options of many first time dog owners. Because of the many advantages they bring with them and also their minimal expenses, they are a very much in demand breed for many middle class Indian families.
However no matter the background or financial status, what is important is you being able to provide for your pet that goes beyond the limits of money. A thousand bucks can buy them 10 different types of toys, but pets like Bulldogs who need human company more than anything will do better if you spend an hour extra with them, instead of leaving them on their own with just those toys as their playmate.