Are you a fan of those doggos with a big, bulky body, droopy eyes, floppy ears and an ever smiling face? Do you plan on getting to know more about those furry friends? Are you considering adopting one? Well then look no further as you've come to the perfect place to have all your doubts and questions answered. Today, our article is about Saint Bernard or St. Bernard, as many people like to call them. We will be trying our level best to answer all the questions and doubts you may have. So let's get started without further adieu.
Saint Bernard or St. Bernard comes from a breed of huge working dogs, well known for their massive stature and tender temperament. It is internationally recognised to be one of the molosser breeds, hailing from Switzerland. Do not mistake them for beasts because of their huge size. They are the typical "gentle giants" with a hard exterior and a soft interior. They have a gentle personality and are very calm and sweet, especially with children. You can keep your children under the care of these furry four legs without any concern. The only worry one may have is them knocking over small kids because of their huge size. Other than that they do not possess any threat to children. They have a great sense of responsibility and are very capable in taking care of kids.
The fur of Saint Bernard however can either be soft to touch or incredibly coarse based on their genes and how well their fur is taken care of. They usually come in colors like brick, mahogany or white with black mostly concentrating itself in the nose and ear. Tails are most commonly long with their eyes typically having a brown shade. Some exceptions however include icy blue eyes making Saint Bernards even more attractive.
With the basic characteristic features of a Saint Bernard covered, let's move onto the next part of the article which is where we will be discussing all kinds of expenses related to Saint Bernards. The initial question that every willing dog owner might have at this moment is "What is the price of Saint Bernard dogs in India?" Worry not! As today we will not just be telling you the prices of Saint Bernarddogs in India but also the related expenses that are to come after you bring your Saint home. Get ready, it's gonna be a ride!
| BREED | Saint Bernard |
| --- | --- |
| ORIGIN | Switzerland |
| LIFE SPAN | 8 to 10 years |
| LITTER SIZE | 8 to 10 puppies |
| COAT | Shiny, smooth and glossy |
| COLOR | Red White, Tan, Brown, Reddish-brown, Brindle. |
| TEMPERAMENT | Gentle, friendly, intelligent, loyal etc |
| HEIGHT | 70cm to 90cm for males and 65cm to 80cm for females. |
| WEIGHT | 64kg to 82kg for males and 54kg to 64kg for females. |
| Saint Bernard Price In India | 20,000 to 40,000 INR |
PRICE OF SAINT BERNARDS IN INDIA
The price of Saint Bernards in India ranges from 20,000 INR and can go upto an amount of 40,000 INR.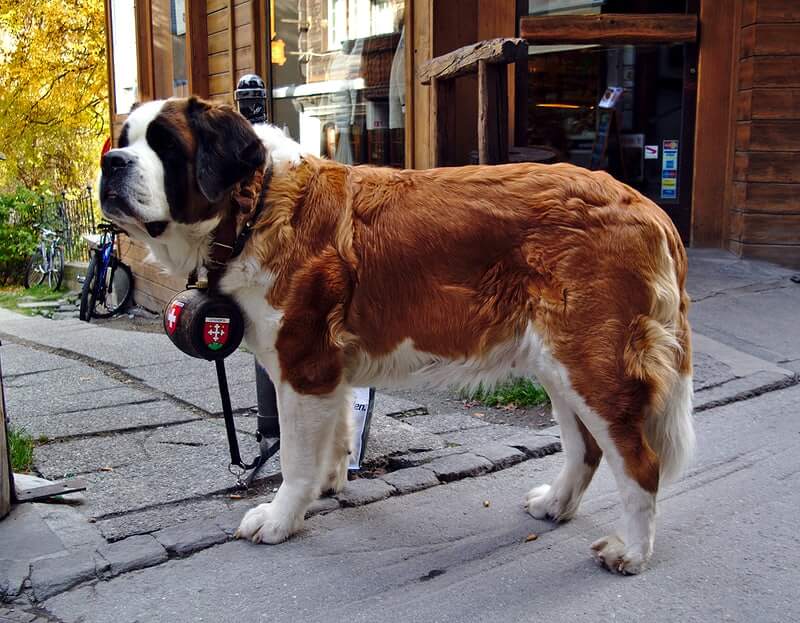 Let's take a look at the following price list of Saint Bernards charged by breeders in different cities of India.
PRICE CHART OF SAINT BERNARD DOGS IN DIFFERENT CITIES OF INDIA
| CITY | PRICE OF BREED (₹) |
| --- | --- |
| MUMBAI | 20,000 - 30,000 |
| DELHI | 17,000 - 34,000 |
| KOLKATA | 22,000 - 29,000 |
| PUNE | 34,000 - 51,000 |
| JAIPUR | 16,000 - 29,500 |
| KERALA | 21,500 - 36,000 |
| AHMEDABAD | 15,000 - 31,000 |
| HYDERABAD | 22,000 - 27,400 |
| MAHARASHTRA | 24,000 - 28,000 |
| TAMILNADU | 15,000 - 25,500 |
PRICE IN MUMBAI – Saint Bernards can cost you around 20,000 INR to 30,000 INR for a single coat and 35,000 INR to 42,000 INR for a double coat.
PRICE IN DELHI – Single coat Saint Bernards will cost around 17,000 INR to 34,000 INR and double coat Saint Bernards are 26,000 INR to 41,500 INR.
PRICE IN KOLKATA – Saint Bernards with single coat fur cost around 22,000 INR to 29,000 INR. For double coats, the price hikes up to 30,000 INR to 43,000 INR.
PRICE IN PUNE – Single coat Toy Saint Bernards cost around 34,000 INR to 51,000 INR. For double coats, it's around 43,500 INR to 67,000 INR.
PRICE IN JAIPUR – Saint Bernards having single coat fur, will cost you 16,000 INR to 29,500 INR. On the other hand, Saint Bernards with double coated fur will cost you 30,000 INR to 45,000 INR.
PRICE IN KERALA – Saint Bernard dogs having a single coat in Kerala will charge you 21,500 INR to 36,000 INR. In case of double coated Saint Bernards the price rises up to 35,000 INR to 43,000 INR.
PRICE IN AHMEDABAD – Charges range from 15,000 INR to 31,000 INR for single coat Saint Bernards. Double coat Saint Bernards are costlier and charge around 33,000 INR to 45,000 INR.
PRICE IN HYDERABAD – Basic price for single coat Saint Bernards start from 22,000 INR to 27,400 INR. Double coat charges from 29,000 INR to 43,600 INR.
PRICE IN MAHARASHTRA – Single coat Saint Bernards can cost you 24,000 INR to 28,000 INR. Whereas a double coat Saint Bernards can cost you 29,000 INR to 42,000 INR.
PRICE IN TAMILNADU – Breeders will charge you around 15,000 INR to 25,500 INR for single coat Saint Bernard s and 33,000 INR to 45,500 INR for double coated Saint Bernards.
PRICE IN RAJASTHAN – They cost around 23,000 INR to 29,000 INR for single coat Saint Bernards and 30,00 INR to 40,000 INR for double coat Saint Bernards.
PRICE IN HIMACHAL PRADESH – Saint Bernards in cold regions like Himachal Pradesh cost around 17,000 INR to 29,000 INR for single coat and 35,000 INR to 43,000 INR for double coat.
PRICE IN MADHYA PRADESH – Price of Saint Bernard dogs in single coats in MP is around 16,000 INR to 25,000 INR and for double coats it's 31,000 INR to 40,000 INR.
PRICE IN KARNATAKA – Price of single coat Saint Bernard in Karnataka cost around 21,000 INR to 33,000 INR. For a double coat it exceeds the price tag of 35,000 INR to 41,000 INR.
PRICE IN CHENNAI – Saint Bernards with single coats in Chennai come for 20,000 INR to 30,000 INR and for double coats it's around 31,000 INR to 43,000 INR.
SAINT BERNARD PUPPY PRICE IN INDIA
You can bring home a perfectly healthy baby Saint Bernard under 20,000 INR. But then again if that puppy is of show quality or KCI registered then it can cost around 40,000 INR
MALE SAINT BERNARD PRICE IN INDIA
The price of male Saint Bernards in India is more than the price of female Beagles in India. Usually male Beagles in India cost around 20,000 INR to 35,000 INR
DOG FOOD EXPENSES FOR SAINT BERNARDS
The most prominent feature of a Saint Bernard lies in their double coated fur and massive size. They are strong boned, and exhibit extremely friendly and loyal behavior. As they are not native to India, the hot and humid weather of India can cause them to overheat because of their thick fur. Therefore, good dog food will charge you around 10,000 INR to 15,500 INR.
VET EXPENSES
Vaccination and vet check ups are mandatory for every dog. These days the vaccination cost for Saint Bernards in India is around 4,000 INR. Deworming is also very crucial for dogs especially and should not be taken lightly or worse skipped. Deworming medicines will cost you 500 INR to 1,000 INR at the highest.
On an average monthly expenses for your Saint Bernard's vet visits will fall under 20,000 INR.
NEUTERING AND SPAYING EXPENSES
Even though you will be stopping them from reproducing and the process itself is very painful, you will also be protecting them from several diseases like heart problems and even cancer. This is the reason why neutering and spaying is often advised by breeders and vets for the betterment of the pup.
Neutering and spaying charges in India range from 8,000 INR to 15,000 INR at most.
GROOMING AND MAINTENANCE EXPENSES
It's a known fact that the furry exterior along with floppy ears is one of their most prominent aspects.
Any dog parlor will charge you a good amount of 4,000 INR to 6,000 INR. Hair and skin care products alone will cost you around 2,000 INR to 3,000 INR.
ACCESSORY EXPENSES
Get ready to buy lots and lots of toys for your Saint Bernard pup. They are not a very active breed and because of their huge size and furry coat it is in their best interest if they stay in and okay with toys like balls, ropes and such.
Apart from these, you will also need a bed and kennel, bowls for food and water, high quality leash and chain and so on.
TRAINING EXPENSES
Trainers in India charge around 20,000 INR per month on average to train a Saint Bernard. Since this breed of dog is kind of primitive and extremely protective of their family to the point of attacking new people thinking they will harm the family. Because of this they need to be trained by a strong and firm hand. They are somewhat intelligent and good at following orders.
Walks can work really well as they love to be in the open space. Exercise is also important if you want to reduce and avoid the chances of obesity, thyroid problems and such.
They are not extremely active dogs but despite that can be called fit. Taking them out on walks and making them participate in weekly fitness activities will not only prevent bloating but also help them maintain their health. Not just that. They are extremely friendly dogs so make sure to always keep them accompanied and happy.
TRAVEL EXPENSES
Unfortunately you cannot travel with your Saint Bernard on train as they do not permit pets. As a result, they will have to travel in a non air conditioned coach. Saint Bernards are highly susceptible to overheat and suffer from dehydration due to their double coat of fur that is meant to keep them warm in the harsh and frigid weather of Switzerland. Therefore leaving them alone in a hot and humid place for an extended period of time is a very bad idea.Airlines are the best way to travel with pets. But always put aside a hefty amount just for traveling with your pet when you are planning a trip.
CONCLUSION
Dogs hold the capability to be great companions and their loyal nature will ensure that they will stay with you until they leave permanently.But the love your dog gives you, it's important to give that love back to them as well. Dogs need to feel love and affection as well. They need pats and work better when they're given treats.
At the end of the day, it all depends on you, the owner, as well as your Saint Bernard equally.