So have you watched those movies with dogs who catch the viewers eyes with their fluffy, brown, curly fur and their small stature? Yes, we are talking about the famous curly haired Toy Poodle. Not so surprisingly, Poodles had never been much popular in India. This breed started gaining popularity in the last few decades after famous actors and actresses, influencers, big public figures etc, started adopting Poodles as pets and even movies started casting them. Many famous dog shows also use Poodles as their crazy hairdos attract a lot of new dog lovers. However, India has seen a considerable rise in the popularity of poodles in recent years.
Having its origin in Germany, poodles are considered to be one of the most gorgeous and good looking dogs among ancient dogs. Their friendly, loyal and hardworking personality set them a bar higher than other dogs and people even created the smaller version of them, from the original standard breed of poodle who was much bigger, which we have now come to know as the toy poodle and the miniature poodle. The most prominent feature of a toy poodle is their brown curly fur which can be styled in many ways, along with their slender muzzle and long neck.
Their unique appearance sets them apart from other regular dogs and hence makes people want to adopt poodles even more.But like every other dog in this world, toy poodles also come with both good qualities and bad qualities. And if you are considering adopting one, you should know of all the necessary information on the matter to make the whole process easier for both you and your dog. So, in today's article we will be discussing and providing you with all kinds of information you need to know before adopting a toy poodle of your own. In the following part of the article we will be including various topics to discuss such as the price of Toy Poodles in India, their vaccination and vet charge, pet insurance policies available in India and so on.
| BREED | Toy Poodle |
| --- | --- |
| ORIGIN | Germany |
| LIFE SPAN | 12 to 14 years |
| LITTER SIZE | 6 to 10 puppies |
| COAT | Curly, thick double coat |
| COLOR | Tan, Gray, Blue, Brown, Red, Silver, Apricot, Cream |
| TEMPERAMENT | Gentle, friendly, intelligent, loyal etc |
| HEIGHT | 24cm to 28cm for males and 18cm to 22cm for females. |
| WEIGHT | 2kg to 4kg for males and 1.8kg to 3.5kg for females. |
| Toy Poodle Price In India | 30,000 to 60,000 INR |
PRICE OF TOY POODLE IN INDIA
The price of Toy Poodle in India ranges from 30,000 INR and can go upto an amount of 60,000 INR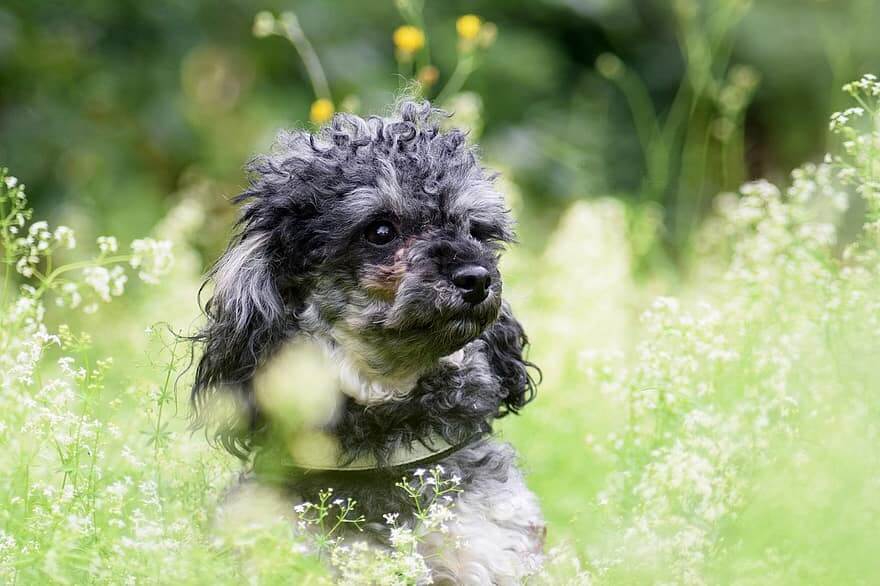 PRICE CHART OF TOY POODLE DOGS IN DIFFERENT CITIES OF INDIA
| CITY | PRICE OF BREED (₹) |
| --- | --- |
| MUMBAI | 30,000 - 50,000 |
| DELHI | 37,000 - 61,500 |
| KOLKATA | 32,000 - 65,000 |
| PUNE | 34,000 - 51,000 |
| JAIPUR | 36,000 - 56,000 |
| KERALA | 31,500 - 53,500 |
| AHMEDABAD | 35,000 - 58,000 |
| HYDERABAD | 32,000 - 63,500 |
| MAHARASHTRA | 34,000 - 62,000 |
| TAMILNADU | 35,000 - 66,500 |
| RAJASTHAN | 23,000 - 60,000 |
Below we have provided the average price list of Toy Poodle Dogs in different cities or states of India.
PRICE IN MUMBAI – Toy Poodles can cost you around 30,000 INR to 50,000 INR for a single coat and 35,000 INR to 58,000 INR for a double coat.
PRICE IN DELHI – Single coat Toy poodles will cost around 37,000 INR to 54,000 INR and double coat Toy poodles are 46,000 INR to 61,500 INR.
PRICE IN KOLKATA – Toy Poodles with single coat fur cost around 32,000 INR to 49,000 INR. For double coats, the price hikes up to 50,000 INR to 65,000 INR.
PRICE IN PUNE – Single coat Toy Poodles cost around 34,000 INR to 51,000 INR. For double coats, it's around 43,500 INR to 67,000 INR.
PRICE IN JAIPUR – Toy Poodles having single coat fur, will cost you 26,000 INR to 39,500 INR. On the other hand, You poodles with double coated fur will cost you 40,000 INR to 56,000 INR.
PRICE IN KERALA – Toy Poodle dogs having a single coat in Kerala will charge you 21,500 INR to 36,000 INR. In case of double coated Poodles the price rises up to 39,000 INR to 53,000 INR.
PRICE IN AHMEDABAD – Charges range from 35,000 INR to 41,000 INR for single coat Poodles. Double coat poodles are costlier and charge around 43,000 INR to 58,000 INR.
PRICE IN HYDERABAD – Basic price for single coat Poodles start from 32,000 INR to 47,400 INR. Double coat charges from 49,000 INR to 63,600 INR.
PRICE IN MAHARASHTRA – Single coat Toy poodles can cost you 34,000 INR to 48,000 INR. Whereas double coat Poodles can cost you 49,000 INR to 62,000 INR.
PRICE IN TAMILNADU – Breeders will charge you around 35,000 INR to 49,500 INR for single coat Toy Poodle s and 53,000 INR to 66,500 INR for double coated Toy Poodles.
PRICE IN RAJASTHAN – They cost around 23,000 INR to 39,000 INR for single coat Toy Poodles and 40,00 INR to 60,000 INR for double coat Poodless.
PRICE IN HIMACHAL PRADESH – Toy Poodles in cold regions like Himachal Pradesh cost around 27,000 INR to 39,000 INR for single coat and 45,000 INR to 57,000 INR for double coat.
PRICE IN MADHYA PRADESH – Price of Toy Poodle dogs in single coats in MP is around 36,000 INR to 55,000 INR and for double coats it's 51,000 INR to 65,000 INR.
PRICE IN KARNATAKA – Price of single coat Toy Poodle in Karnataka cost around 31,000 INR to 43,000 INR. For a double coat it exceeds the price tag of 48,000 INR to 61,000 INR.
PRICE IN CHENNAI – Toy poodles with single coats in Chennai come for 30,000 INR to 40,000 INR and for double coats it's around 41,000 INR to 55,000 INR.
There are a number of reasons however that affect the price of Toy Poodles.
Quality – Basic quality pups cost less. KCI or Kennel Club of India registered puppies cost more and show quality pups cost the most among the three.
Location – Adopting your pup from a different state will increase the price than adopting it from your state. Breeders also charge differently all over India. The huge geographical size of India is therefore another reason behind the differences in price of Toy Poodles in India.
Breeder – Different breeders all over India will charge you differently. Therefore looking for a fixed price while adopting your Poodle might not be a wise idea. Also try to avoid getting your Poodle from pet mills and brokers.
Coat, fur,color, age – These are some of the other factors influencing the pricing of Poodles in India. Quality and density of the coat as well the color all influence the price fluctuations.
TEACUP TOY POODLE PRICE IN INDIA
The price of Teacup Toy Poodle price in India is around 40,000 INR to 60,000 INR.
BROWN TOY POODLE PRICE IN INDIA
The price of Brown Toy Poodles in India starts from 30,000 INR to 50,000 INR.
WHITE TOY POODLE PRICE IN INDIA
The price of White Toy Poodles in India is around 45,000 INR to 70,000 INR as they are kind of rare and exotic.
RED TOY POODLE PRICE IN INDIA
The price of Red Toy Poodles in India starts from 50,000 INR to 65,000 INR at most depending on the breeder and other factors.
BIG TOY POODLE PRICE IN INDIA
Poodles who are bigger than 28 cm fall under the category of Big Toy Poodle. The price of Big Toy Poodles in India is around 50,000 INR to 70,000 INR.
DOG FOOD EXPENSES FOR TOY POODLES
The most prominent feature of a Toy Poodle lies in their shiny and curly and voluminous brown fur. They are strong canines and very loyal. As they are not native to India, the hot and humid weather of India might cause them to suffer from some health issues that may cause them to shed. They also need a regular intake of 350 calories.
In such a situation, they need high quality dog food which has a high concentration of protein and other supplements needed for their growth and development. Therefore, good dog food will charge you around 10,000 INR to 15,500 INR.
VET EXPENSES
Vet visits are accompanied by vaccines and deworming. Vaccines for Toy Poodles cost around 4,000 INR. Deworming medicines should also never be skipped and be taken as prescribed by your vet. Deworming medicines don't usually exceed the 500 INR price limit.
On an average, monthly expenses for your You Poodles's vet visits will fall under 20,000 INR.
NEUTERING AND SPAYING EXPENSES
In India, neutering charges range from 10,000 INR to 15,000 INR. Keep in mind that price differences may be noticed when you compare among other states.
GROOMING AND MAINTENANCE EXPENSES
Skin and hair care cost comes hand in hand with these. It's important to keep the shiny fur of your Toy Poodles intact and to prevent them from shedding all that beautiful hair fast. Expect the skin and hair care bills of your poodle to be around 1,000 INR to 2,500 INR on average per month.Grooming charges at any dog parlor ranges from 4,500 INR to 5,000 INR.
ACCESSORY EXPENSES
Toys!! Never forget to buy toys for your Toy Poodle. As teething is a common problem seen in young pups, getting them toys to chew on might save the owners from getting bitten themselves.
Apart from these, you will also need a bed and kennel, bowls for food and water, high quality leash and chain and so on.
TRAINING EXPENSES
Trainers can be appointed by the owner themselves or by the breeder as well if needed. In India, trainers charge 10,000 INR to 20,000 INR approximately, each month. Once again, changing states and cities will cause a fluctuation in price.
INSURANCE PLANS FOR TOY POODLES IN INDIA
As a dog that may end up making you spend at least 1 lac annually for themselves, it's better to consider pet insurance. Pawtechindia.com is a good choice if you do indeed plan on getting pet insurance. They also have a variety of plans you can choose from. It will help you in the long run so do consider the advice with an open mind.
CONCLUSION
Toy Poodle is an amazing dog and also a great choice for first time dog owners. They have a lot of pros accompanied by cons. They cost a lot and the related expenses will make your wallet receive a serious hit.
But returning home to a ball of fluff running to you and licking all your troubles and weariness away is better than going back to an empty home waiting for you. Poodles are gentle and playful dogs and need human company a lot. So make you give them lots of love and attention. You make them happy and they make you happy in return. And this is how you can build the most healthy relationship ever with your Toy Poodle.