Looking for a compatible, loving and understanding companion? No, we don't mean a romantic companion but someone who comes with four paws, a wagging tail, a wet nose and a heart full of love. Yes, we are talking about the famous breed of American Bully! Judging from the fact that you have opened this article, one can assume that you are indeed planning on adopting one and are in need of plenty of information and guidance, starting from where to buy, what's the price for American Bully in India and all the tit-bits that accompany it.
Having its origin in the United States of America, the American Bully has been gaining a lot of popularity over the last few decades because of their extremely adaptable, trainable, loyal and friendly personality. They are a very good companion and despite being lap dogs at home exhibit extreme efficiency in weight pull and flirt pole. American Bullies are very intelligent and do well with firm training from an early age. They are a sturdy breed of domestic dog having a shiny, smooth and glossy coat that comes in almost all colors. American Bullies are also very healthy dogs and are not easily affected by bacterial or such infections.However despite these ultimate pros that dog owners always look for, American Bully are not really in a huge demand in India and their popularity can only be defined as "subpar".
There are a number of reasons that cause this little unfortunate balance. But fear not, today you'll be guided by everything you need to know about adopting an American Bully, what to do after adopting an American Bully, all the pros and cons, with expense details and so on. You name it, you'll find it. So buckle up! It's going to be a ride!
| BREED | American Bully |
| --- | --- |
| ORIGIN | United States of America |
| LIFE SPAN | 8 to 13 years |
| LITTER SIZE | 4 to 8 puppies |
| COAT | Shiny, smooth and glossy |
| COLOR | Black, White, Fawn, Tan, Gray, Blue, Brown, Red, Brindle. |
| TEMPERAMENT | Gentle, friendly, intelligent, loyal etc |
| HEIGHT | 33cm to 56cm for males and 30cm to 50cm for females. |
| WEIGHT | 32kg to 45kg for males and 30kg to 40kg for females. |
| American Bully Price In India | 40,000 to 80,000 INR |
PRICE OF AMERICAN BULLY IN INDIA
The price of American Bullies in India ranges from 40,000 INR and can go upto an amount of 80,000 INR.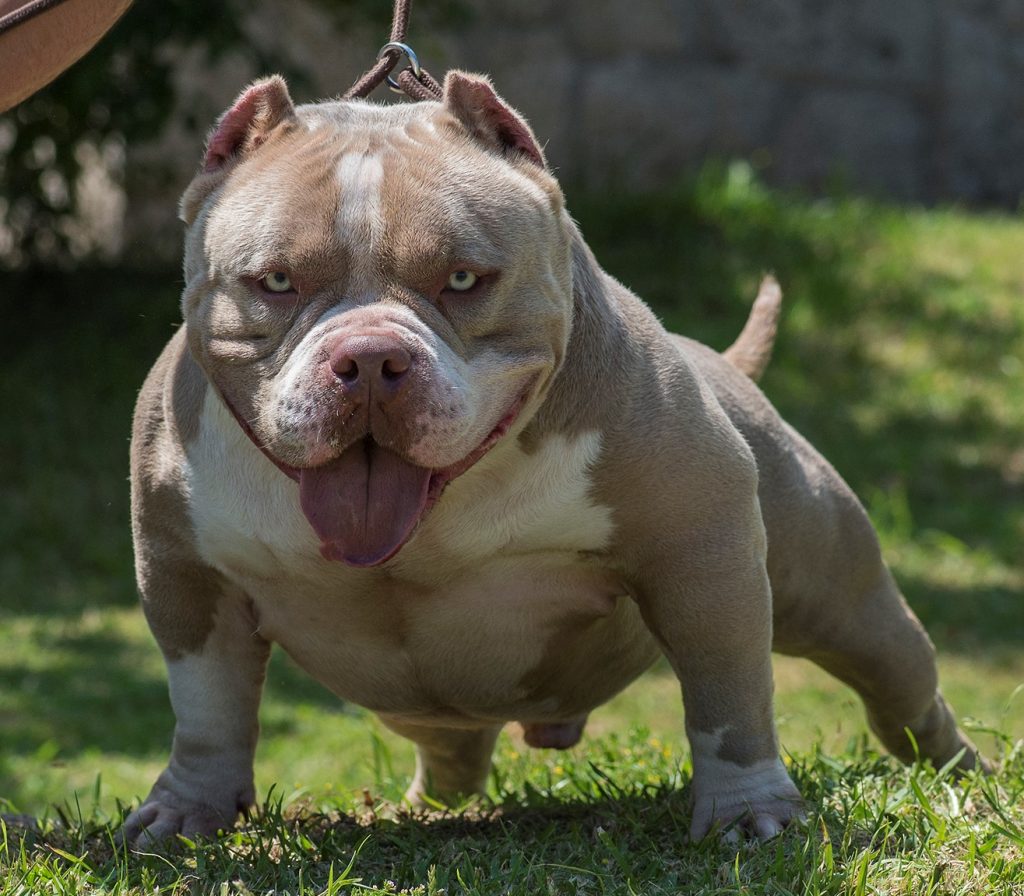 Let's take a look at the following price list of American Bullies charged by breeders in different cities of India.
PRICE LIST OF AMERICAN BULLIES IN DIFFERENT CITIES OF INDIA
| CITY | PRICE OF BREED (₹) |
| --- | --- |
| MUMBAI | 45,000 - 80,000 |
| DELHI | 40,000 - 75,000 |
| LUCKNOW | 50,000 - 70,000 |
| KOLKATA | 45,000 - 80,000 |
| JAIPUR | 50,000 - 78,000 |
| KERALA | 55,000 - 76,500 |
| PUNJAB | 47,000 - 75,000 |
| CHANDIGARH | 50,000 - 80,000 |
| BANGALORE | 40,000 - 80,000 |
| HYDERABAD | 45,000 - 72,000 |
PRICE IN MUMBAI – American Bully in Mumbai, which is a metropolitan city, can cost you 45,000 INR to 80,000 INR depending upon the breeder, quality of dog, coat, color and health.
PRICE IN DELHI – The average price of American Bully in Delhi starts from 40,000 INR to 75,000 INR. If you are planning to adopt from a breeder in Delhi but you live in another state, then expect the price to be higher. As out of state adoptions cost more than in state adoptions.
PRICE IN LUCKNOW – The price of American Bully in Lucknow is around 50,000 INR to 70,000 INR. Expect the price to be more if the breeder and the previous puppies of the litter you're adopting from has a KCI certification.
PRICE IN KOLKATA – In Kolkata, another metropolitan city, the price of American Bully starts from 45,000 INR to 80,000 INR. You have the option to choose from a variety of colors but keep it in mind that the price changes with every different color.
PRICE IN JAIPUR – Price range for American Bully in Jaipur starts from 50,000 INR to 78,000 INR. A little advice, if you're adopting puppies make sure to adopt from reputable breeders. Try to avoid pet mills as the quality of their puppies is somewhat compromised.
PRICE IN KERALA – It is quite often seen that the price for puppy adoption seems to be more in Kerala than in other states and cities. Therefore expecting a price slip of 55,000 INR to 76,500 INR might not be too much.
PRICE IN PUNJAB – Punjab, because of having a hot and arid climate, charges more for breeds that are better suitable for temperate to colder regions. This is because of their maintenance expenses. So the price of American Bully in Punjab might range from 47,000 INR to 75,000 INR,
PRICE IN CHANDIGARH – The price range for American Bully in Chandigarh starts from 50,000 INR and can go upto 80,000 INR. Although there are chances of a hike or drop in price rates depending on the demand and supple rate.
PRICE IN BANGALORE – Price of American Bully can start from 40,000 INR to 80,000 INR in Bangalore. The weather of Bangalore might not be suitable enough for your Bully which can mean an additional number of expenses coming at you. Be ready!
PRICE IN HYDERABAD – Price of American Bully in Hyderabad range from 45,000 INR to 72,000 INR. Make sure to negotiate if necessary and also let the breeder be aware of your budget beforehand. This will make the adoption process a lot more smoother.
Always try to adopt your puppies from legal, legit and reputable breeders. They may cost more than the regular breeders but their knowledge on the subject and the quality of their pups is far superior than the other breeders.So it will not be a bad investment since there's no return policy once you adopt a dog.
AMERICAN BULLY PUPPY PRICE IN INDIA
The price of an American Bully puppy in India is around 30,000 INR to about 60,000 INR. This most depends on the breeder you are adopting your American Bully from as well as the quality of the dog. As we have discussed earlier there are a number of factors that affect the price of a dog in India.
AMERICAN BULLY XL PRICE IN INDIA
American Bullies are sectioned into four varieties depending upon their height. They are all recognised of Standard variety until they are of a year old, which is when they are sectioned into varieties.
These four types of varieties are- Standard, Pocket, XL and Classic. The price of an XL American Bully in India is around 60,000 INR to about 90,000 INR.
There are also some non-standard varieties of American Bullies like the Micro, when they are too small or XXL, when they are too large.
DOG FOOD EXPENSES OF AMERICAN BULLIES IN INDIA
The most prominent feature of the American Bully is their beautiful and lucious folds of skin that look no less exotic and majestic than the golden furry coat of the Golden Retriever. To keep those folds clean, healthy and help them retain their royalty, they need branded and expensive dog food, that is high in protein content. Good food not only helps develop their digestive and immune system, but also helps nourish them and make them sturdy enough to withstand the harsh tropical weather of the Indian peninsula.
Expect a long and hefty bill of around 10,000 INR to 15,000 INR, if you are willing to provide the best for your pooch and want to keep their folds all luscious and majestic.
VET EXPENSES
As the hot and humid climatic condition of India is not really suitable for this breed of Bully, they need intensive care and attention to make sure they do not suffer severe health problems.
Regular vet check-ups will cost you around 12,000 INR to 17,000 INR.
Add vaccines and deworming to your "to-do" list, whenever you're making a scheduled visit to the vet. Vaccines cost around 2,500 INR to 4,000 INR.
Deworming is very important for all types of dogs and must never be skipped. Expect a bill of around 200 INR to 500 INR for deworming medicines.
DISEASES THAT AMERICAN BULLIES ARE PRONE TO IN INDIA
Any dog that hails from places where the temperature has a stark difference than how it is in India, tends to suffer from numerous health disorders induced by the difference in habitat. American Bully owners should always keep an eye out for such diseases and make sure to treat them accordingly before they get out of hand and reach the point of no return. Some of these serious diseases are listed down below :
Hip Dysplasia
Elbow Dysplasia
Cherry Eye
Fold Dermatitis
GROOMING AND MAINTENANCE EXPENSES
As this breed of dog is not furry like others, congratulations Bully owners, you're saving up on the grooming charges a little bit. Although keep in mind that the speciality of American Bullies lies in their beautiful and luscious folded skin.
India is a very hot country and these dogs do not do well with a very hot environment. So in order to make sure that their skin is kept in a good condition, if not the best, you need to put in some money to buy ointments and clinical powers that can help absorb the moisture and prevent them from getting fold dermatitis and also prevent bacterial infection that happens from bacteria seeping inside the folds and manifesting into serious skin problems. Investing 4,000 INR to 7,000 INR will ensure your pooch has a shiny healthy coat with exotic folds radiating royalty.
ACCESSORY EXPENSES
Be prepared to spend a good amount on toys, expensive belts, comfortable leashes, high-quality chains, bed and kennel and most importantly food and water bowls.
They are highly active dogs and very fit. Taking them out on walks and making them participate in weekly fitness activities will not only prevent bloating but also help them maintain their active nature. Not just that. They are extremely friendly dogs and thrive on companionship so make sure to always keep them accompanied and happy.
Mental health is as important as physical health.
TRAINING EXPENSES
Every dog needs a strong and firm training to reach the best version of themselves and American Bullies are no exception. As dogs who are naturally fit and aggressive, only when the situation asks for, they need good and proper training.
Training expenses are expected to start at 15,000 INR and may reach as high as 30,000 INR per month, changing from one trainer to another. But one should remember that not every glide is smooth unfortunately.
Trainers can be appointed by the breeders you had bought your Bully from. Patience and endurance is the key to a well-behaved pooch. Walks are a must for them including light weekly exercise. But make sure to know the limits of your Bully so that you don't end up injuring them unintentionally.
TRAVEL EXPENSES
If you plan on traveling with your American Bully, then be prepared to pay a hefty amount to the authorities as railways, unfortunately, do not allow pets to travel with their owners. And as a result, they would be traveling in a non-air conditioned coach. Heat is very bad for American Bullies and can cause sweat to form and in return cause them to catch a cold. Airlines are the best option to travel, if you're planning to travel alongside your pet. So putting aside a hefty amount just for traveling with your pet when you are planning a trip might be a good idea and can save you from future harassment.
INSURANCE POLICIES AVAILABLE FOR AMERICAN BULLIES IN INDIA
As a dog that may end up making you spend at least 1.5 lac INR to 2 lac INR annually for themselves, it's better to consider pet insurance. Pawtechindia.com is a good choice if you do indeed plan on getting pet insurance. They also have a variety of plans you can choose from. It will help you in the long run so do consider the advice with an open mind.
CONCLUSION
Dogs are a lifelong responsibility and once you adopt them you should only provide the best for them.
Help them live a happy life and they will help you live a happy life in return. Loneliness will be a faraway nightmare once you bring them home and they will stay. They are called "Man's best friend" for a reason after all.